You're an adult—time to make sure your house looks like an adult lives there. That means nothing that belongs in a dorm, nothing makeshift, nothing with a beer brand on it. We all graduated from cartoon sheets and stuffed animals decades ago, but there are still home decor thresholds to be crossed in adulthood. Most importantly, graduating to adulthood is about making your house your own.
Here's your guide to the six things you should not have in your house after you turn 30. 
1. Any furniture that could be purchased at Office Depot
Soulless faux-wood particle-board desks, TV stands made of glass and plastic, desk chairs that look like they belong in a 1990s accounting office.
Big-box-office-store furniture inherited from your father's office was great for getting you off the ground when you moved out of the dorm, but it's time to replace it with furniture designed with taste (not just function) in mind. 
And don't be afraid to get creative—as long as the furniture was designed to be used in a house, not an office. Dressers can be bedside tables, credenzas can hold TVs, wingback chairs can be desk chairs. 
2. Unframed posters
This is something we should all graduate from the moment we move out of a dorm room. You're a grown woman, artwork should be in frames, and music and movie posters really shouldn't be anywhere in your house. 
Let's be honest, custom framing can be exorbitant, but there are alternatives. Online framing services will cut you a good deal, or you can try buying pre-cut mats at a craft store and ordering frames from Amazon. No one will know you didn't pay a high-dollar custom frame shop. 
3. Branded beer glasses, shot glasses…really anything that brandishes an alcohol brand
No one wants to see your alcohol tastes on display unless they're thoughtfully curated on a stylish bar cart (and even those are best adorned with brandless decanters over booze bottles). Posters sporting vodka brands, neon beer signs, shot glasses reading South Beach '07, and those promotional pint glasses should go.
Up your game with a clean and simple bar cart or tray featuring top-shelf liquor and nice wines. Style with fresh-cut flowers, a stainless steel shaker, a bottle chiller, and a set of cocktail glasses.
4. A bulletin board
Unless you work from home and have a job that requires a space to pin ideas—maybe you're a graphic or interior designer—it's time to toss that bulletin board. Fill that new empty space on your wall with framed art or bookshelves. 
If you do need a bulletin board for work, be sure to keep it in your home office, bonus points if you can tuck it behind a cabinet. 
5. Christmas lights—when it's not Christmas
Christmas in July is for movie marathons, not home decor. When the holidays are over, take down those holiday lights. All of them. Multi-colored and twinkle lights should be reserved for the months of November and December only. 
If you love the soft glow, replace your twinkle lights with indoor lanterns or custom light fixtures. Modern sconces are great for soft, mood-setting lighting.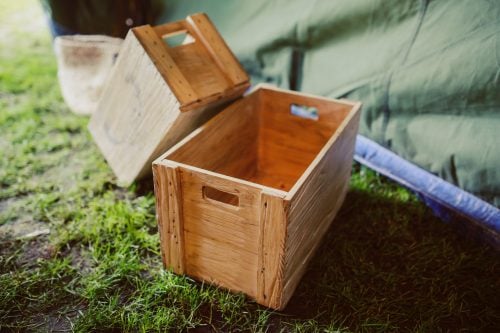 6. Crates
Crates are for shipping, not for decorating. Wooden crates, plastic milk crates, whether in their original form or converted into some clever storage or table have to go. 
Their replacement—real furniture. If you like to farmhouse or industrial look, consignment shops and Pinterest can offer a world of grown-up inspiration.
Matilda Davies lives in Raleigh, North Carolina, where she writes about health and wellness. In her free time, she enjoys yoga, hiking, and walking her dogs.