Spring has sprung, and Easter is next weekend. I love when spring has arrived. Flowers, sunshine and pretty pastels are in order. A little bit if rain, but that is welcomed here in Phoenix.
I love putting on events, but I also know how much time they can take, especially when celebrating a holiday. Easter is big in my home. I grew up with new Sunday Easter dresses, and waking up to Easter baskets that the Easter bunny has left.
I wanted to do something for my family that was unique, beautiful and that anyone could put together for their Easter brunch or breakfast. I chose to do brunch because I wanted to offer sweet and savory, and of course serve my favorite wine from Cambria Wines. Their 2012 Cambria Julia's Vineyard Pinot Noir, and their 2012 Cambria Katherine's Vineyard Chardonnay.
Having both red and white wine options is sure to please everyone at your Easter Brunch.
A table with some decorations and light menu is sure to please. Some beautiful spring flowers like tulips and daffodils will tie everything together.
For my menu I served:
Cupcakes
Chocolate Nutella Stuffed Easter Egg Nests
Banana and Blueberry Mini Loafs
Marshmallow Pops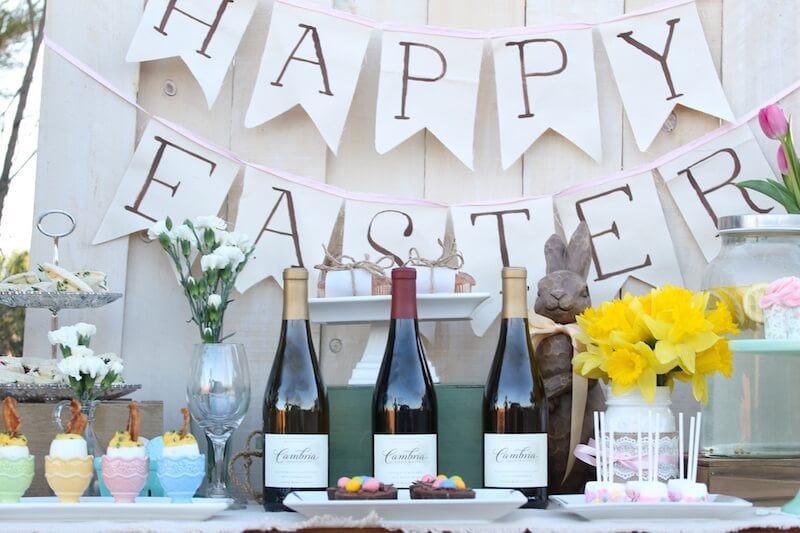 Hope you enjoyed my Easter Brunch Table and find some inspirations to add to your family's traditions.
Thanks to Cambria Wines for hosting this brunch and be sure to check out more of their delicious recipes that you're sure to love!