Would you like to guest post join the
Love for 30 Project
? I would love to hear your story.
Email me
for all the details to guest post.
[email protected]
Raise your hand if you freaked out even a tiny bit at the thought of turning 30. I know I did. But it wasn't really 30 that freaked me out. It was turning 31 that had me on edge. For me, 30 was this cool age where you were not a 20 something kid anymore, but you could still get away with acting like a 20-something. Turning 31 was different. That meant I would be in my 30s! For some reason the idea of that just didn't sit well with me. It made me feel really old. Thankfully, the day of my 31st birthday was the same as any other day, and I got over it quickly. Now that I'm 32, I never want my 30s to end.
I used to think that my 20s were supposed to be the best years of my life. Don't get me wrong, I enjoyed my 20s, but I spent the first part of my 20s starting my career, then by 24 I had kids, left my career and just didn't do a whole lot other than care for my boys. Now that I'm in my 30s, I am truly happy with my life and where it is going. I have an awesome husband, two amazing kids, and we have a great life. We travel a lot as a family, but my husband and I also have a great group of friends that we love to travel with as well. Most of our friends have younger kids, so nobody has skip out on plans because they couldn't find a sitter. We just hang out at each other's houses and let the kids play.
That being said, there are some days when I wish I could take a dip in the fountain of youth. And no, it's not for the typical reasons. I don't have any grey hair, and the few fine lines I have don't bother me in the slightest. It's more the overall growing older part that is catching up with me.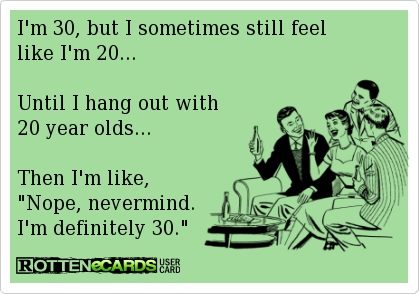 Like the morning my husband and I woke up after a night out with friends at a country bar. We each only rode the mechanical bull once, but we both felt like we were on the losing end of a wrestling match. What's funny is that in our late teens/early 20s, we both rode real bulls and never felt that way the next morning. Last year, we also decided to join an adult soccer league. That definitely made us realize we weren't in our 20s anymore.
Even though things hurt a little more now than they did back then, I still wouldn't trade my 30s for anything. I am having the time of my life and I hope it never stops. It's not all peaches and sunshine every day, but that's what makes life exciting. I can't wait to see what the rest of my 30s have in store for me.
BIO
Katie is a stay-at-home mom with an obsession for DIY and crafts. She has a deep love for coffee and believes it's never too late in the day for a cup! She is an Arizona native and has been married to her husband for 8 years. They have two crazy, adorable little boys, ages 7 and 5. When she's not in the garage building something, she's hanging out with her family or working on her blog, Addicted 2 DIY. There she shares her tutorials for crafts and furniture projects as well as her favorite recipes. She hopes to inspire others to give things a try and find their inner creativity.
Blog: Addicted 2 DIY
Twitter: @addicted2diy1

Instagram